macOS
The preferred method (more secure): Install Configuration Profile (for LAN and rommelwood Wi-Fi)
11.0 Big Sur or later:
(Instructions for older versions are below)
1. Download this profile and open it.
Go to Settings > Profile and click install.
2. Enter Rommelwood credatials.
Enter the username and password, which you use to log in at rommelwood.de and click install.
3. Confirm by clicking install.
4. Enter your user password. It's the password you use to unlock your mac.

5. Now the profile is installed and you should be able to connect if you plug in the cable or a Wi-Fi station is near by.

6. Done! To confirm you can go to Settings > Network. It should look similar to this:

From 10.13 High Sierra up to 10.15 Catalina:
1. Download and open this profile
You can inspect the profile by clicking on "Show Profile".
2. Continue and enter your rommel credentials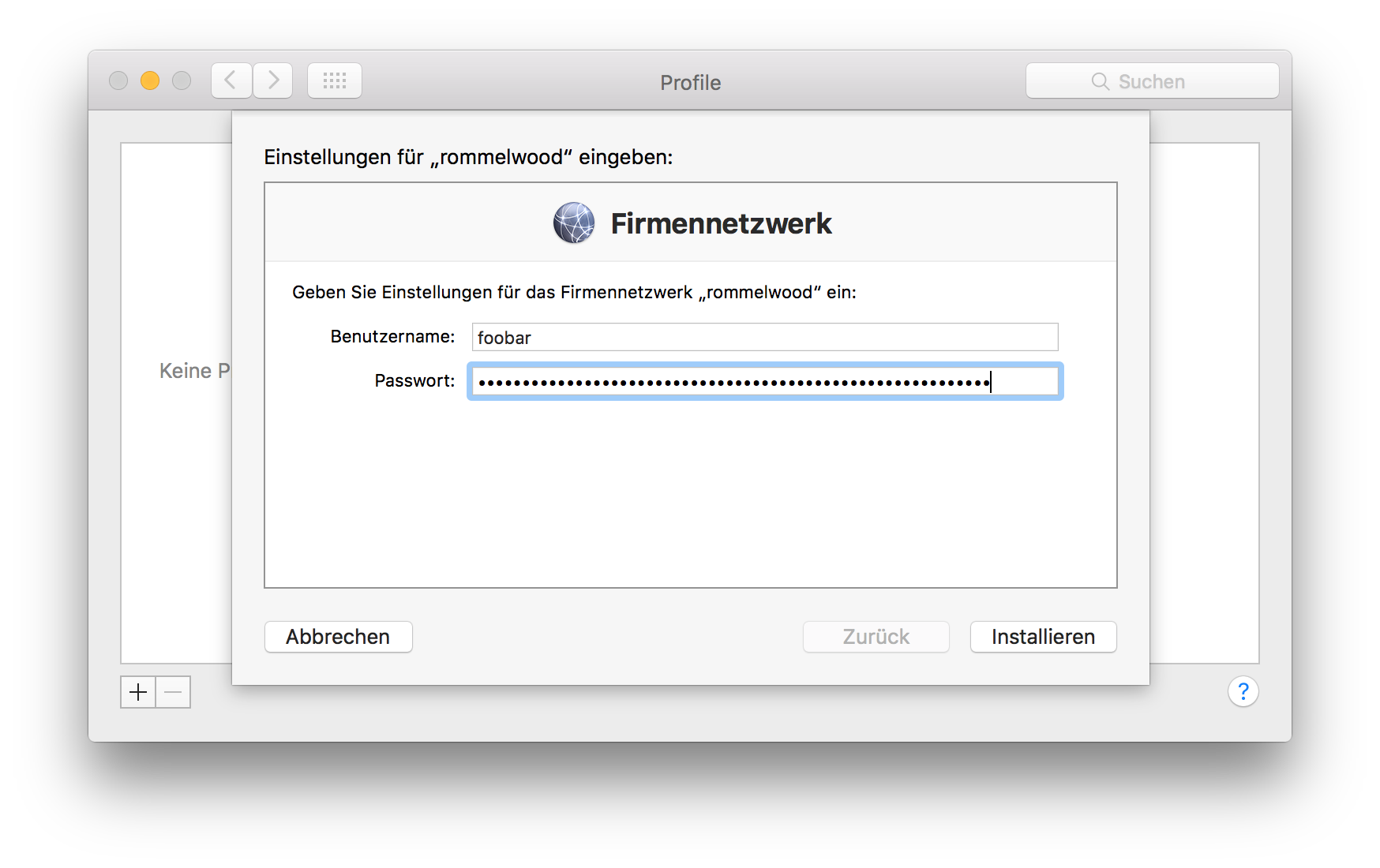 3. Click Install and provide you system credentials
4. Configuration is now installed

5. Now you can plug in the network wire or you can connect to our WLAN
After some seconds you should be connected to our network
Alternative (less secure): Without profile (only LAN and no rommelwood Wi-Fi)
Prerequirement: As you changed your password you did not uncheck the box saying "generate NT-hash". Without profile we use MSCHAPv2 which needs the NT-hash. If you unchecked the box while changing your password, you have to change your password again und this time don't uncheck the "generate NT-hash" box.

1. Plug in the LAN Cable

2. After a few seconds a windows pops up automatically
3. Choose a certificate und enter your rommelwood credentials. Press OK
4. Now there is a window showing you the radius server's certificate . Press Countinue
5. Enter your macOS user password (NOT the rommelwood credentials)
6. Done
Has something failed? Talk to our user advisors or send a mail to