Windows 10
Automatic configuration
Download this ZIP archive (sha256 checksum: 7a365024bd6f28f463a1054d46c92dff168f40e3bfa341570d80cd878a8fa0b7)
Extract the zip archive with a right click and "extract all".
Important: The script has to be located in a folder named rommelwood-network-setup. If it is named rommelwood-network-setup(1) or similar please rename the folder to \rommelwood-network-setup.
Execute rommelwood-network-setup.bat with administrative privileges. (right-click -> Execute as Administrator)
4.1. If Windows SmartScreen shows up follow the pictures below or
Read the given hints and accept them by pressing any key
Enter your rommel useracount data (if you never connected to our network)
Success :-)
Skip these two steps if SmartScreen doesn't show up
Insert credentials: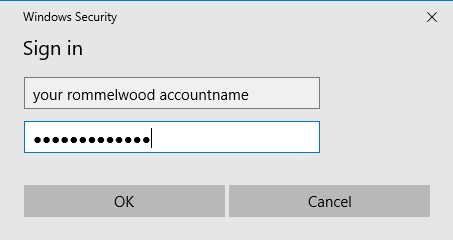 If the automated configuration didn't work, you can just follow the manual instructions.
---
Manual installation:
Enable the 802.1X Service for wired networks
Click on start and enter "services.msc". Press enter!


Search for "Wired AutoConfig" and then right-click on "Properties".


Set "Startup type" to "Autommatic" and click on "Start"!


Click "OK" in order to close the window.

Configure Authentication
Open Network settings


Change adapter options


Right click on you LAN connection (NOT WLAN! NOT WIFI! NOT 1394! NOT VMWARE or something else!) -> click Configure


Open "Authentication"! Select "Settings".


Active the Certificate "DST Root CA X3" and click on "Configure…"!


REMOVE the tag! Close the window with "OK"


Close the window with "OK"!


Click on "Additional Settings"!


Tick "Specify authentication mode" and select "User authentication" in the dropdown menu. Make sure "Enable single sign on for this network" is not set. Now click on "Save credentials" and proceed with the next step:


Enter your credentials for the Rommelwood website/network and close with "OK".


Now close every window with "OK". Your internet should work now!
Everything should work now until you reinstall your windows. If it does not work, please check the settings you just did. Then you can contact a user advisor or come to our consultation hour.